Generate the email list that will generate your audience
… And Build Your Business
An email newsletter is one of the most convenient and easy ways to keep in touch with your clients and prospects. With WPNewsman you can easily convert your website visitors into newsletter subscribers through double optin subscription forms in widgets, articles and pages, import and manage your lists, create and send beautiful newsletters directly from your WordPress site.

Your greatest business asset is your audience, your permission-based email list … the people you hope to serve with your business. The target audience is the most valuable asset. But now we got it.And how do you generate such an audience? Well it's simple… but not easy:

1. You create and share useful content over time.

2. You convert readers into subscribers.

3. You build trust and convert your subscribers into active and happy customers.

And if it's email subscribers that you're after — the kind of engaged subscribers who will help you generate your first sale — then WPNewsman Pro is your way to go.
Why WPNewsman Pro?
Because WPNewsman Pro was literally designed with one objective in mind: to drive subscribers to your email list. In other words, to capture the email addresses of people who want to know more about who you are and what you do, so you can make offers they may be interested in.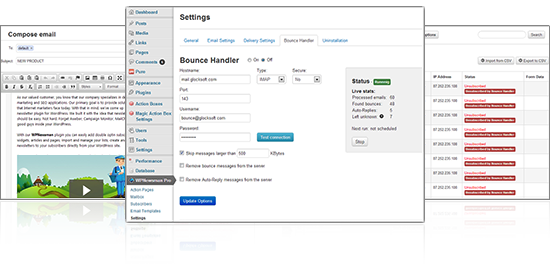 Here's what you get with WPNewsman for WordPress:
Effortless installation and configuration

You can use our plugin rigth out-of-box. WPNewsman is pre-configured to collect the subscribers' email addresses and names and have them confirm their subscription. It's supplied with system email templates and action pages used in the double opt-in process. You can modify the default settings as you like or use them as is.

Quick signup widget & forms

You can collect email subscribers either from the sidebar widget or shortcode-supported double opt-in forms. You can customize the signup form as you like by adding fields or options, removing fields, re-ordering fields. You can embed opt-in forms anywhere on your WordPress site and create multiple mailing lists using different forms.

Easy customization of the Welcome Email and Thank You page

Though the Confirmation Email and Welcome Message are supplied with the plugin, you can fully customize them through your admin panel to fit your marketing needs. For example, you can include a link to a file in your server into the welcome message as a bonus for signing up. Also you can customize default action pages including the Thank You page as you like.

Easy mailing list management

You can import your existing subscribers into your WordPress database and export collected subscribers to a file. You can manually unsubscribe users, delete users or change the subscriber's status to confirmed or unconfirmed.

Integration with G-Lock EasyMail7 Email Marketing Software

You can use WPNewsman completely free to convert visitors into email subscribers on your WordPress site and you can use G-Lock EasyMail7 to send email newsletters to your subscribers. It's very convenient if you have the Lite version of WPNewsman where sending is limited to 2000 subscribers only or sending from WPNewsman does not work on your site for some reason. You simply create a direct link from G-Lock EasyMail7 to your subscribers' lists stored in WPNewsman through API and send them email newsletters using G-Lock EasyMail7.

Ability to quickly re-send a confirmation request

You can quickly segment your list, select only those who haven't validated their email address yet and re-send them a confirmation email. This is also a great opportunity to re-engage your existing subscribers collected from other sources. You can import them into your WordPress database and send them a confirmation request.

Full control over email newsletter design

You have unlimited customization options (body, header, footer, colors etc.) for built-in email templates including the mobile template. You can create your own layout in any HTML editor and use it within WPNewsman editor to built a newsletter that resembles your marketing material. In addition to this, you can easily create a digest template to send blog posts notifications to your subscribers.

Email newsletter personalization

You can use short codes supported by the plugin to merge the subscriber's name, your blog name, URL, your social profiles links such as Twitter, Facebook, Google+ and LinkedIn and other fields into your email newsletter.

Multiple sending options

You can customize From name, From email address and Return email address and choose the suitable delivery mode including your custom SMTP server or quickly load Gmail or Amazon SES SMTP settings. You can send newsletters immediately or schedule them at any date or time and throttle email newsletter sending to respect the SMTP server restrictions.

Secure newsletter sending

You keep your list private and secure. Our plugin does not expose your subscriber's list to the list members. Each subscriber sees only his/her email address in the To field when they receive your newsletter.

Email campaign tracking

Our WPNewsman plugin is supplied with an incredible email tracking capability so that you can estimate how your email performed after sending. You do not need to insert any tracking code into your email messages. The plugin uses the built-in tracking system that provides you with email tracking statistics for each sent message.

Confirmation when the user unsubscribes

Sometimes it's a big problem. The users send newsletters to friends and the friend can unsubscribe them by clicking the unsubscribe link. So, people often find themselves unsubscribed through they've never sent an unsubscribe request. With the WPNewsman you can send an unsubscribe notification via email to the user to ensure the person really wants to unsubscribe. If this is a mistake, the user can go to your website and re-optin to receive your newsletters.

Bounced emails handling

You can send newsletters to large mailing lists without the risk of being blacklisted by your ISP for continuous sending to invalid users. The built-in Bounced Handler helps you keep your lists clean and verified.
All essential features are supported by the free version of the plugin – WPNewsman Lite. Some advanced features are available in the WPNewsman Pro version only.
| | |
| --- | --- |
| Collect subscribers using the confirmed opt-in method | Yes |
| Use pre-configured templates for action pages and emails used in the double opt-in process | Yes |
| Create custom email templates | Yes |
| Customize the signup form | Yes |
| Integration with G-Lock EasyMail7 | Yes |
| Send emails to 2000 subscribers or less | Yes |
| Send emails to an unlimited number of subscribers | Pro |
| Get FULL email tracking statistics | Pro |
| Use remote tracking such as Google Analytics and Piwik in links | Pro |
| Process bounced emails | Pro |
| Create multiple subscribers' lists using different opt-in forms | Yes |
| Embed forms on external sites | Yes |
| Send a welcome email to new subscribers | Yes |
| Import subscribers into the WordPress database | Yes |
| Export subscribers from WordPress to a file | Yes |
| Include the unsubscribe link into the email | Yes |
| Use the double opt-out process | Yes |
| Send a subscribe/unsubscribe event notification to the blog admin | Yes |
| Use default mail settings (sendmail), PHP mail or custom SMTP server to send newsletters | Yes |
| Throttle email newsletter sending | Yes |
| Send newsletter on a specific date and time in the future | Yes |