Use External Tracking Tools: Google Analytics or Piwik
The Pro version of our WPNewsman plugin provides you with the ability to track your recipients' actions using Google Analytics and Piwik tracking tools.
Google Analytics is a service that generates detailed statistics about the visits to a website. With Google Analytics' analysis features you can find out how many customers you're attracting, how much you're selling and how users are engaging with your site . Read more about Google Analytics here.
Piwik is yet another tracking service alternative to Google Analytics. It's an open source free web analytics tool that is installed on your local server. Unlike Google Analytics that keeps statistics in your account on Google Analytics, Piwik keeps tracking statistics on your server.
Piwik Analytics lets you track how efficient various marketing campaigns are in bringing visitors to your website (visits, page views, etc.), how well these visitors convert and how much revenue they generate. Read more about Piwik Analytics here.
Using Google Analytics or Piwik remote tracking in your newsletters is simple.
Just before sending the newsletter:
1. Choose the tracking option: Google Analytics or Piwik.
2. Enter the campaign name.
3. Click "Send".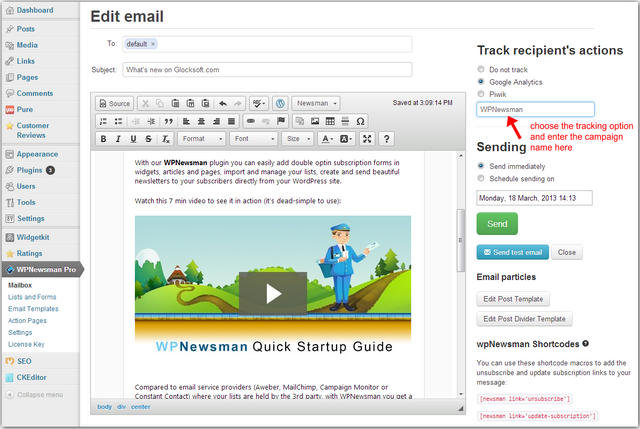 Click on the image to enlarge it
The plugin automatically adds the Google Analytics or Piwik tracking code to your URLs in the message.
Wait for a couple of days after you sent your newsletter and see the statistics!
Login to your Google Analytics account and click on Campaigns at the left side under Traffic Sources.
The page will show you all your campaigns. Look for 'wpnewsman / email' campaigns statistics.
In Piwik go to the report Referrers -> Campaigns and click on the campaign name to see how the links performed.
Tracking in Piwik is done using the 'pk_campaign' parameter in URLs. WPNewsman will add this parameter to each URL.
http://domain.com/products.html   ->  http://domain.com/products.html?pk_campaign=News-Jan2013
All visitors who open the email and click on the link will arrive on your website. Piwik will track the visit, and detect the parameter "pk_campaign" in the URL of the first page view, and the visit will be credited to the Referrer -> Campaign: "News-Jan2013".