Create and Send Emails
Use "Mailbox" under WPNewsman to create and send email newsletters to your subscribers.
To create an email newsletter, click on "Compose" and select "From Template" or "Quick Message".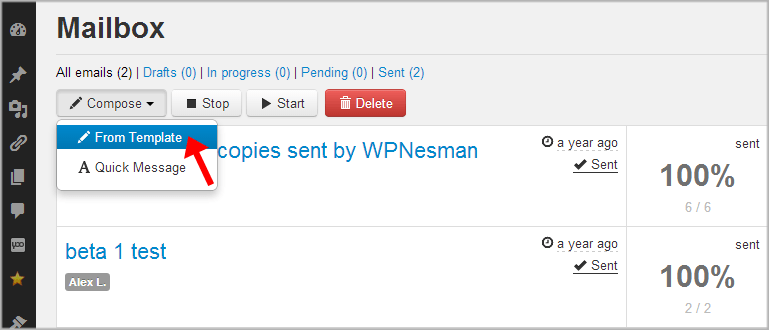 Select "From Template"  to design an email newsletter using one of your prepared templates.
Select "Quick Message" to create a new message without using any template.
Click the mouse in the To field to display your subscribers' lists.  Select the list you want to send the email to.
Type the email Subject and content. Or, click on "Source" and paste your message HTML source here.
To send a posts digest, put the mouse in the message body where the first post should start, click on the "Insert Posts" button on the editor, select the posts to insert and click OK. See Send Posts Digest for more information.
To quickly add the unsubscribe link to the message, click on the Newsman button on the editor and select "Unsubscribe".
To insert the link to an online version of the message, select  "View Email Online".
To insert links to your social profile pages, select select "Follow on Twitter", "Friend on Facebook", "Connect via LinkedIn", or "Add on Google+".
To insert the current date into the message, choose "Current Date".
To insert the user's subscription date, choose "Subscription Date". The date will be inserted including the time, for example Fri, 21 Jun 2013 13:56:13
To send a test message, click on "Send Test Email".
Choose the sending option: Send immediately or Schedule sending.
Click "Send".
To save the message as a draft, click "Close".
WPNewsman uses the built-in tracking system that provides you with email tracking statistics for each sent message — unique email opens, unique link clicks and unsubscribed recipients in the Lite version. It automatically calculates the open rate, click rate and unsubscribed rate. You can see all this data in the Mailbox.
With the WPNewsman PRO version you can get advanced email tracking statistics. If you are using the Pro version, click on "View Stats" to get full email tracking statistics.
In Mailbox you can select the message and click on the "Stop" button to stop sending. To resume, click on the message and after it is highlighted by yellow, click "Start".
To delete the message, click on the message and then click "Delete".
To edit the message, click on the message and then click "Edit".
To duplicate the message, click "Duplicate".
To view the message in the browser, click "View in browser".