When you are running an online business, your list is the best and truest asset you have. When you need to make some money, your list is where you go. It's the number one thing you need when you setup your business.
Your list is the vehicle to building trustful relationship with potential buyers. It's also the vehicle to building trustful relationship with potential affiliates and partners because if you have a list, you can promote for your partners and they can promote for you. The money is on the list and, of course, the money is in your relationship with your list.
In this article we will cover two types of lists you can have and basic list building foundations.
Basically there are two types of lists: email and other. Email list is your prospect list (people who are interested in your emails and gave you the permission to email them) and client list (people who have already bought from you). The client list always generates xx times more money than the prospect list. Why? Because you already have relationship with those people, they already trust you. So, definitely, the money is in the relationship.
Other lists include your Facebook contacts, Twitter followers, people who follow your videos on Youtube, RSS and LinkedIn contacts. These lists are good and they can really help you in business. But there is a problem with all these lists except RSS. The problem is that they are controlled by someone else, not you. One day you can find out that your Youtube channel is blown away or Facebook shut down your account. So, these lists are good but they are not as effective as the email list. Email list is the key.
But not every email list can be used for email marketing if you want to generate sales. You can't simply buy or harvest email addresses. Firstly, because it's not permitted by CAN-SPAM law, and secondly, because you won't get profit from such a list. Those people don't know who you are and why you are emailing them. They are reluctant to buy anything from a stranger. And you'll end up in the various spam blacklists.
What you need is a targeted email list. A targeted email list is a list of people who are familiar with your product, who have expressed interest in your product and who have deliberately given you their email address to receive news, offers, and promos from you.
So, how do you get a targeted email list?
The basics to create a targeted list of prospects is to create a landing page with an opt-in box. The key is to give people something in return for their email address. Entice them with something like "I've got 5 great tips for building a highly responsive email list for you in this video. Just give me your email address". Add a no-brainer offer to your landing page that they can't resist to take.
If you already have a website, it's not necessarily to create a standalone landing page with an opt-in box. You can use G-Lock WPNewsman newsletter plugin for WordPress to collect emails using a confirmed opt-in method on your site. You can add an opt-in widget to your site, or opt-in form inside any page on your site. You can customize the form as you want. In addition, you can customize your welcome email and include the download link or link to the video that you will send users after subscription.
After you've got a nice landing page with an opt-in form and irresistible offer, you need to drive targeted traffic to your landing page any way you can: social media, paid ads, links in web directories, blog comments, press releases, articles etc. etc. You have different streams to send people to your landing page.
So, basically, the formula for a quality targeted email list is: opt-in form + irresistible offer + targeted traffic

It doesn't really matter how many subscribers you will get per day – 10 or 100. You can start with 10 per day and as far as you will be sending traffic to your page, you will get 100 per day. What matters is that it will be your OWN list of prospects who you can email, promote and sell.
So, start by adding G-Lock WPNewsman opt-in form on your site and collect subscribers completely free. When your list grows, you can upgrade to the paid WPNewsman Pro version and start sending marketing emails to your subscribers directly from your site dashboard. This way you'll have the complete newsletter system within your WordPress site.
Don't put your profits in the hands of a third party, send email for free using your host or use any third party email sender of your choice…
Download G-Lock WPNewsman for FREE 
It Helps You Build Huge Lists, Increase Your Profits and Take Control of Your Email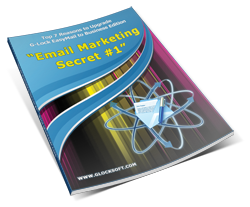 Get «Email Marketing Secret №❶» eBook
Download our PDF eBook and learn how to collect more leads and send highly responsive emails for free to grow your business and maximize your email marketing, not relying on expensive, restrictive ☠ email services that charge high monthly fees and ultimately control your profit at their whim. Be in control of your email…