Top 10 Questions You Should Ask Before Spending Your Hard Earned Dollars
Here we will talk about probably the biggest decision you'll have to make as an email marketer in terms of a supplier or a vendor. This is the decision where to host your list and email system. You have to make the right decision because moving your list and email system from one hosting platform to another is very difficult. It's a real pain.
Basically, you have a choice between a 3rd party hosted service (big ESP like Aweber, GetResponse etc.) and self-hosting service (you host your email list and system on your website like with G-Lock WPNewsman or on your computer). There are pros and cons of using each of them so you have to think twice before making the decision. Below are the top 10 questions you should ask before choosing an email marketing platform so you can reach your goals and benefit from email marketing:
1. How much do I need to pay?
The first big issue for email marketers is the price. If you pay more than you earn, it destroys the whole concept of online business. 3rd party services and providers charge you depending on your list size. The bigger your list the more it costs to host and send emails to your list. When you have a huge list it can cost $100s or even $1000s a month. So, using 3rd party hosted service can become rather expensive when your business is grown.
When you have a self-hosted system, for example provided by G-Lock WPNewsman, you don't pay expensive monthly fees. You pay a one time fee or a small yearly fee and you can send as many emails as you want without any restrictions. Sounds pretty good, right?
2. How reliable is it? I don't want to lose everything.
The second big issue for email marketers is reliability and control. The last thing you would want to do is to spend time and efforts for creating a huge quality email list and lose it all in a moment. If you choose a 3rd party hosted service, be aware that your list and a lot of your business will be controlled by the 3rd party, not you. They can decide to delete your account for no reason, ban you or just stop working for some time with zero explanation. So, your business depends on their whim.
When you are self-hosted, you have your business under your own control. There are two important things in terms of email marketing: 1) get emails delivered to Inbox avoiding spam filters, and 2) get emails delivered on a timely fashion. You'll want your emails to be sent at the day and time you need it especially when you send time-limited offers, coupons, discounts, or promos. With a self-hosted system you hold email sending in your hands and can be sure that your subscribers will receive your messages in time.
3. Does it matter how I got the list?
3rd party hosted services are extra vigilant about preventing spam-related abuse. Not only do they allow to send emails to permission-based lists only, some of them can also ask you to give them proof that you collected emails using an opt-in method, for example, show them the date and time when people subscribed, URL of the page where their subscribed etc. If you violate their anti-spam policy, they will suspend or terminate your account.
With a self-hosting email management service, you don't have to confirm that your list is opt-in. It's about you to decide. If you are serious about email marketing, you will send to opt-in lists only because you don't want to be banned by your ISP. It's also a question of deliverability. If you send unwanted emails and people report them as spam, you spoil your sender reputation and big ISP like Gmail, Yahoo, Hotmail etc. will automatically filter your emails as spam or cut them down before they reach the recipient's mailbox.
4. What about deliverability? I want to send to Inbox.
It was thought that only big email service providers could assure a good email deliverability and using a self-hosting system you could have troubles with sending emails to Inbox. It's not true anymore because many modern self-hosting email and list management systems are integrated with 3rd party senders and can provide a good deliverability just like big ESP.
For example, G-Lock WPNewsman integrates with Amazon's incredible "Simple Email Service" (SES) and other services such as SendGrid, etc. which helps you maximize deliverability rates and connect to your subscriber base quickly and easily. Plus, you can send emails completely free using your host's sending mode or use your own SMTP server, or the SMTP server of your ISP.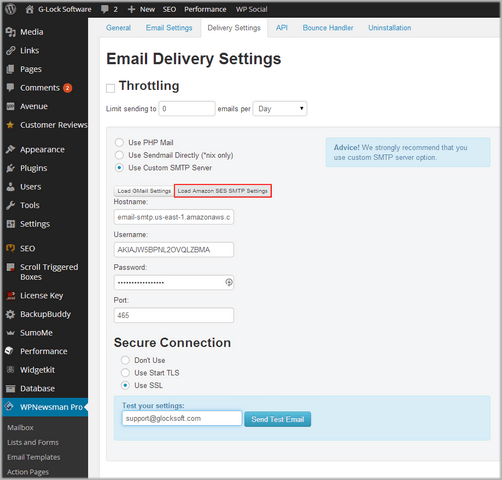 5. Are there any sending restrictions?
In order to maintain high delivery rates for all customers, many 3rd party hosted services put very strict sending restrictions in terms of services, products, or content you can send. For example, MailChimp does not allow to send emails if the content is about escort and dating services, pharmaceutical products, work from home, making money online, online trading, gambling services or products, affiliate marketing etc. etc. because according to them "these industries have higher-than-normal abuse complaints".
When you use a self-hosted system, you don't have insane restrictions in terms of email content. You can send any content you think will be of interest to your recipients. You can have multiple lists and send coupons to your existing customers, promos – to your prospects, affiliate offers – to your affiliates and partners etc. You run your business your way without anyone else telling you what to do.
6. How does it deal with bounces and unsubscribes?
Just like 3rd party hosted services, good self-hosting email systems can automatically process bounce and unsubscribe emails and unsubscribe those addresses from your future mailings.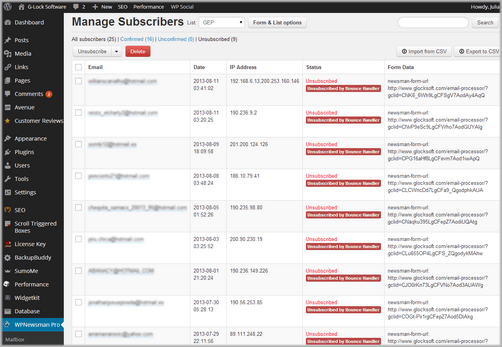 In G-Lock WPNewsman you can even choose between a single opt-out and confirmed opt-out process. Sometimes people can inadvertently click the unsubscribe link, or someone else can click the link to unsubscribe user. So, prevent such false opt-outs, you can use a confirmed unsubscribe process in WPNewsman.
7. What if I want to send a series of follow-ups? Is it automated?
It's a good idea to follow your subscribers with an email series of great tips, training videos, best practices, tutorials and user guides. 3rd party hosted services and some of self-hosted systems support autoresponders that you can use to setup your follow-ups to be sent automatically at the desired day.
8. Will I see who opened my email?
Email tracking is important in email marketing. Without measuring how your email campaign performed, you are running your business blindly. When you know your email open rate and link click rate, you can see if you are doing it right or wrong. So, choose an email marketing platform which has email tracking as a feature. Almost all 3rd party hosted services and some of self-hosting email systems provides email tracking stats for your campaigns.
For example, G-Lock WPNewsman plugin is supplied with an incredible email tracking capability so that you can estimate how your email performed after sending. While the Lite version of WPNewsman provides you with basic email tracking — unique email opens, unique link clicks and unsubscribed recipients, with the WPNewsman PRO version you will get advanced email tracking statistics including the timeline report, geographical location, email addresses of the recipients who opened the email and clicked links in it and much more.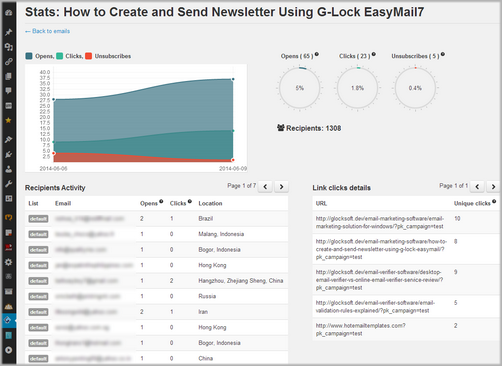 9. Will I be able to manage the list myself?
With a 3rd party hosted service, you have restricted list management capabilities. You can upload lists to their system. However, they don't allow you to delete, bulk unsubscribe, or otherwise modify your list in order to avoid their billing thresholds. When you are using a self-hosting system, you have unlimited list management options. You can upload existing subscribers, delete subscribers, change the subscriber's status to confirmed or unconfirmed, export subscribers to a file, update the subscriber's email address yourself, i.e. your list is under your full control.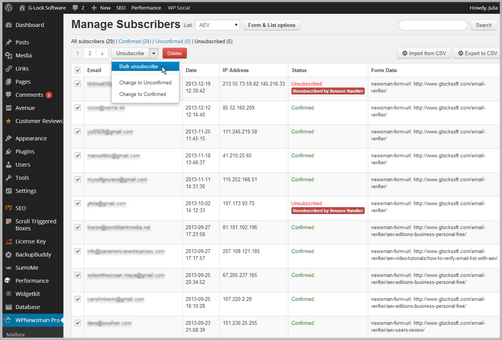 10. OK, and what about the ease of installation? I'm not a tech guru.
We made our best in order you can start using our WPNewsman newsletter plugin right out-of-box. The installation and configuration is really effortless and takes a few minutes. The plugin is pre-configured with email templates and action pages used in the confirmed opt-in process. Just install WPNewsman to your WordPress site, add a subscription widget to the sidebar, enter your email sender information and you are done. If you want to import existing subscribers, there is the import from csv option. No messing around with re-confirmation of leads or facing an inquisition about how you built your list. With G-Lock WPNewsman you have FULL control of your email lists and campaigns.
Don't put your profits in the hands of a third party! With WPNewsman you can send emails for free using your host or any third party email sender of your choice. Even if you have an existing autoresponder or email service, WPNewsman can be a fantastic back up email system in case your service suffers any outages or they suddenly decide to delete your account, ban you or just stop working for weeks at a time…
Generate The Email List That Will Generate Your Audience … And Build Your Business
Download G-Lock WPNewsman for FREE  
It Helps You Build Huge Lists, Increase Your Profits and Take Control of Your Email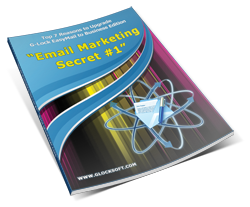 Get «Email Marketing Secret №❶» eBook
Download our PDF eBook and learn how to collect more leads and send highly responsive emails for free to grow your business and maximize your email marketing, not relying on expensive, restrictive ☠ email services that charge high monthly fees and ultimately control your profit at their whim. Be in control of your email…
► Get eBook for Free Today! ◄