Keep your newsletter functionality and data inside your WordPress site
Your subscriber base is growing and so is the cost per campaign. Going for the monthly plan with email service providers means wasting more money if you don't send newsletters regularly enough. And the bigger your subscriber base becomes, the more expensive it is to communicate with them.
When you use ESP you are not owning your lists. Your subscribers are held by a third party. Commonly such services impose usage restrictions and rigid requirements. With the WPNewsman newsletter plugin, you get complete freedom and full control over your lists at a lower cost. Our plugin allows you to send emails via Amazon SES and enjoy high deliverability rate like big email service providers. 
And the best part is that you can use WPNewsman absolutely FREE if you have a small list up to 2000 subscribers or just started online business. When your list is grown, you can upgrade to the Pro version and send newsletters to large mailing lists while keeping them verified and clean — the bounced handler is included into the Pro version. Best bang for your buck.
Download the WPNewsman newsletter plugin right now and try it yourself because it stocked with a suite of powerful features that make sending email newsletters fast and fun:
Super Easy Configuration
Our newsletter plugin is pre-configured to collect the subscribers' email addresses and names and have them confirm their subscription. It's supplied with system email templates and action pages used in the double opt-in process. You can modify the default settings as you like or use them as is.
Easy Mailing List Management
Import your existing subscribers into your WordPress database and export collected subscribers to a file. Manually unsubscribe users, delete users or change the subscriber's status to confirmed or unconfirmed. Quickly re-send confirmation emails to unconfirmed subscribers.
Unsubscribe Link
Quickly add an unsubscribe link to your newsletters using the short code provided by WPNewsman. Use an instant unsubscribe process or confirmed opt-out process and make your emails compliant with the CAN-SPAM Act.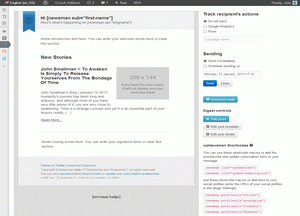 Newsletter Design & Sending
You can create your own layout in any HTML editor or use build-in email templates to create beautiful HTML email newsletters and send them to your subscribers directly from your WordPress site. Select and add message variables to customize emails. Send newsletters immediately or schedule them at any date or time.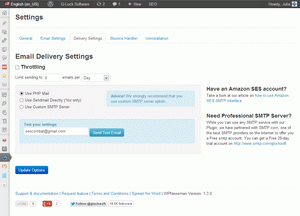 Customizable Email Settings
Add From name, From email address and Return email address. Choose the suitable delivery mode including your custom SMTP server. Quickly load Gmail or Amazon SES SMTP settings. Throttle email newsletter sending to respect the SMTP server restrictions.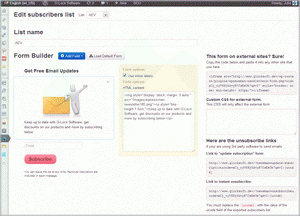 Quick Signup Widget & Forms
Collect email subscribers from widget or shortcode-supported double opt-in forms. Customize the signup form as you like by adding fields or options, removing fields, re-ordering fields and embed opt-in forms anywhere on your WordPress site. Create multiple mailing lists using different forms.
See the complete list of WPNewsman features →
Our One Year Pro Subscription
While all the main features are supported by the free WPNewsman Lite version, subscribe to our WPNewsman Pro version to send newsletters to an unlimited number of subscribers (vs. 2000 subscribers in the free Lite version).
Plus, our Pro members receive Premium Support and Pro version updates (including new version/feature additions) throughout the membership year.
Take our Introductory Offer to become a Pro member for $79 a year
and lock this LOW price forever!
Don't wait for too long, the offer can expire at any time…
Upgrade to WPNewsman Pro →
$97 $79 a year for 1 site